Solutions

Pipe Technology Systems
Dinex develops and manufactures complete pipe technology systems for traditional exhausts and hydrogen fuel cell applications. We have decades of experience and know-how, which enable us to offer cost-efficient solutions of the highest quality.
Pipe systems are today an integrated part of the aftertreatment solution, and consist of several technological solutions to ensure the vehicle's full compliance to emission regulations. Dinex designs, develops and produces exhaust pipes based on inhouse competences and technologies for thermal management, decoupling, leakage-tightness, and urea-mixing, with an optimized flow and geometrical design.
We manufacture pipes from Ø38 to Ø152,4 mm, using both ferritic and austenitic stainless steel suitable for both diesel, gas and hydrogen combustion engines.
The Dinex quality standards, IATF 16949 certification and longtime proven experience in the OE market ensures stable development process, on-time SOP and excellent quality levels.
With our flexible and cost-optimised exhaust pipe solutions and our ability to deliver everything from turbo to tail pipe, Dinex is your preferred partner for full system integration.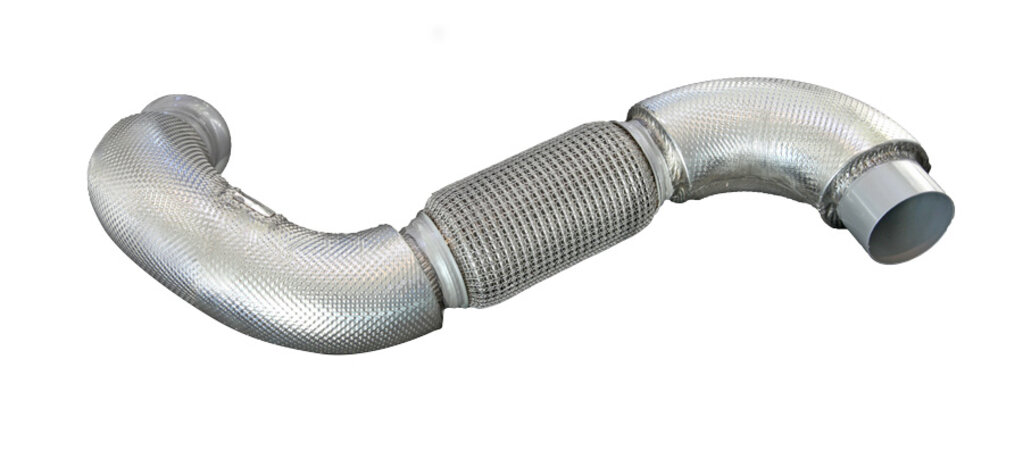 With almost 40 years
of experience, Dinex is the preferred technology partner
for OEM heavy industry.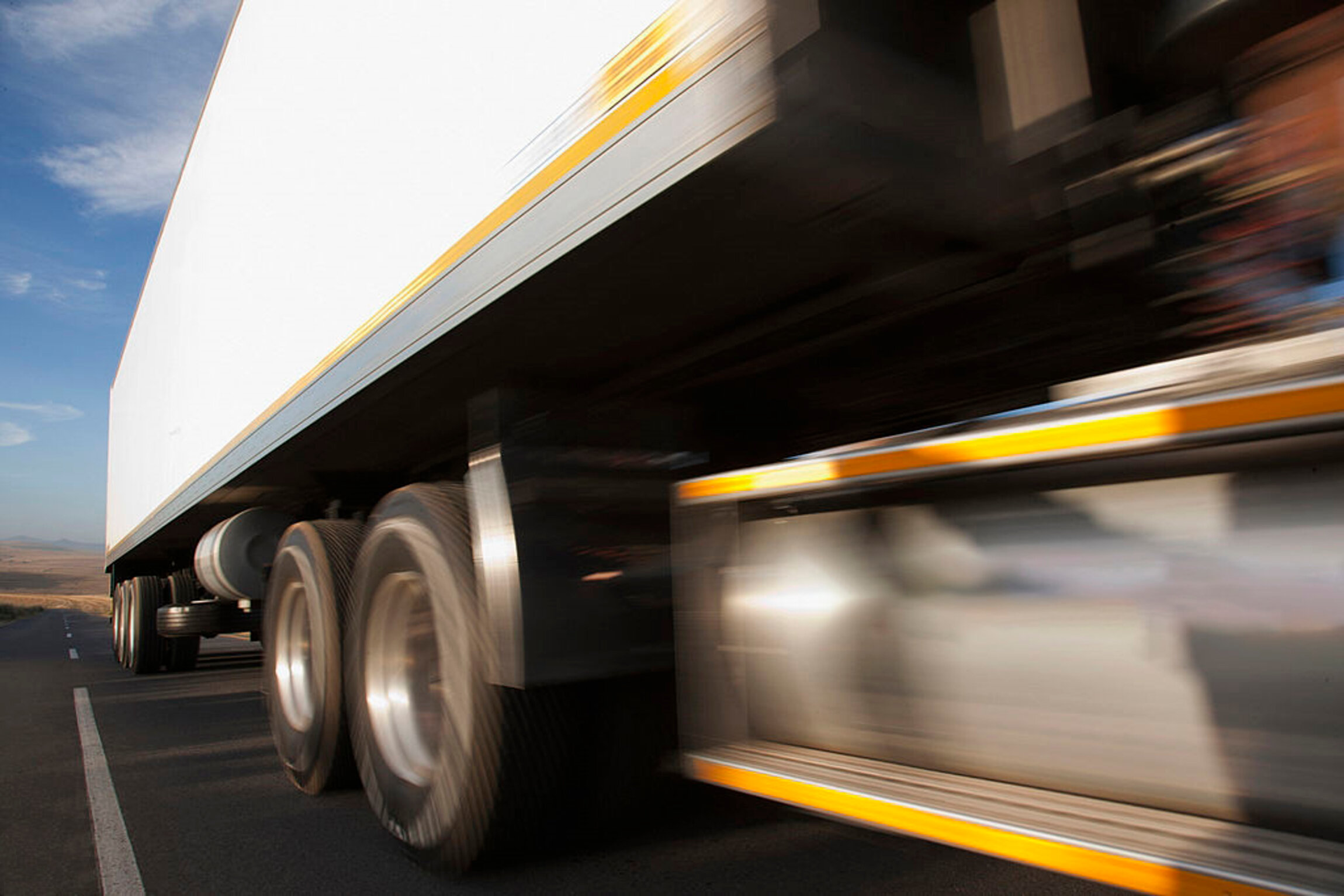 Dinex is specializing in the development and production of high-quality metallic pipes and silencers for fuel cells. With our expertise and commitment to excellence, we are at the forefront of providing innovative solutions that enhance the performance and efficiency of fuel cell systems.
Our metallic pipes are engineered to deliver superior conductivity and corrosion resistance, ensuring efficient and uninterrupted exhaust flow within the fuel cell system.
In addition, our silencers are designed to minimize noise emissions while maintaining optimal performance. By employing innovative noise reduction techniques and materials, we enable fuel cell systems to operate smoothly and quietly in various applications, from automotive and stationary power systems to portable devices.
Collaboration is at the heart of what we do. We work closely with fuel cell manufacturers, research institutions, and industry leaders to drive innovation and advance the field of clean energy. By combining our expertise with the insights and requirements of our partners, we develop customized solutions that meet specific needs and fuel the growth of fuel cell technology.
From metallic pipes that ensure efficient reactant distribution to silencers that minimize noise emissions, Dinex is your trusted partner for hydrogen internal combustion engines to fuel cell components. Join us in shaping a sustainable future powered by fuel cells.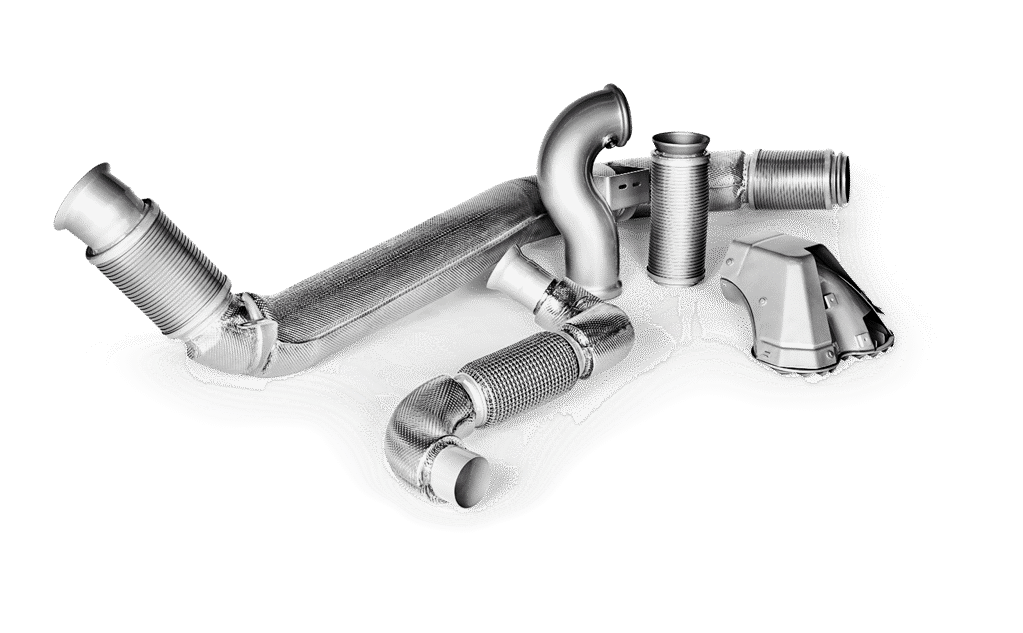 A decoupling element absorbs vibrations between the engine and the exhaust system and compensates installation tolerances and heat expansions.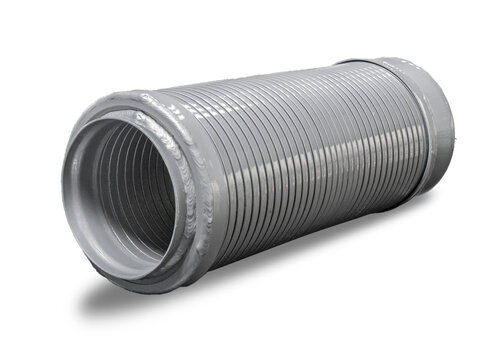 The main characteristics of our decoupling elements are
Excellent durability

Robust against pressure impact and mechanical stress

Excellent absorption of axial, lateral and torsional movements

Enhanced gas-tightness and flexibility
Inside diameter range: 51,5 – 205,0 mm

Material types: 1.4301 (AISI 304), 1.4828 (AISI 309), 1.4571 (AISI 316 Ti)
Dinex' in-house production supplies customised elements for all ranges of applications within the exhaust technology. Dinex uses and integrates the highest quality of interlock flex pipes available on the market in D2S, D2S+, D3S and DC3S design as well as bellows.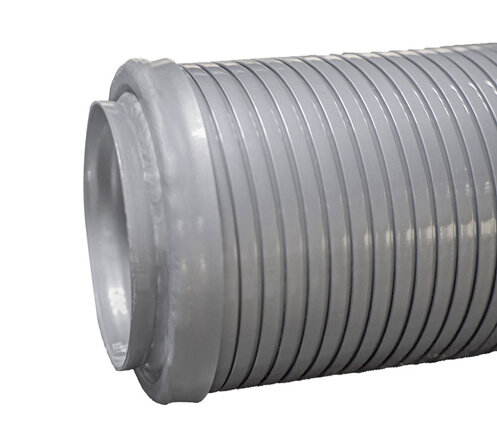 Standard movement compensation
Standard flexibility and leakage rate
D2S+: Advanced Technology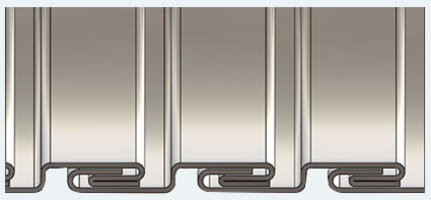 Reduced leakage rate
Enhanced torsional and axial movement
Improved flexibility
20% less weight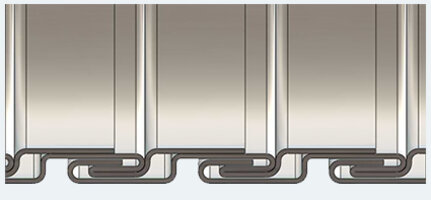 Outstanding flexibility
Improved gas- tightness by adding inside layer
Excellent torsional movement
Enhanced durability
DC3S: Top Technology
​​​​​​​for special applications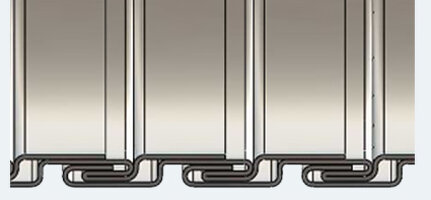 Outstanding flexibility
Improved gas- tightness by adding inside layer
Excellent torsional movement
Enhanced durability
Air-gap insulation and Noise reduction
Dinex' insulation techniques allow the use of different insulation matts in different thickness depending on the actual demand to fulfil the temperature requirements for both diesel and gas applications.
Dinex has a wide range of both E-Glass, silicate and Aerogel solutions available. These solutions can be mixed for cost optimisation on the specific application.
The stainless-steel cover protects the insulation matt from water and stone chipping. Preforming of these foil parts ensure perfect fit on the insulated pipe and can be manufactured in different thickness.
The foil parts are preformed to fit together, which allows easy mounting around brackets and sensor boss etc.
The solution is designed to maintain the temperature inside the pipe, while at the same time ensuring that high pressure water cleaning can take place as a part of the normal work routines for truck owners.
The foil thickness can be variated depending on placement and risk of stone chipping, and this way cost optimize the complete exhaust pipe system.
​​​​​​​